Sgass Rosé
Tasting Notes
Strawberry soda, watermelon rind,
tellicherry, ash, light stone fruit, with bright acidity and soft bubbles.
Good to Know
GrapeTai Rosso
RegionColli Berici, Veneto, Italy
WinerySauro Maulo
SoilClay & Limestone
Vintage2020
FermentationPétillant Naturel
Winemaker Profile
Sauro Maule

"It is nature who intervenesto shuffle the cards a
little bit, it is always she who decides."

With a strong agricultural lineage, Sauro
began making wine with the help of a family
friend in 2011. By 2017, he moved his winery
to an old family property in Colli Berici.
Sauro is so dedicated to the care of his
vineyard, he embarked on a program of
analysis, verification, and subsequent
adaptation of vineyard management based
on current conditions. A team of experts in
collaboration with VinNature Association
monitors the insects, microorganisms and
nutrients in the vineyards.

Sankt Laurent Rosé
Tasting Notes
Honeysuckle, orange blossom, raspberry,
underripe plum, muddled strawberries and
seaspray.

Good to Know
GrapeSt. Laurent
RegionBurgenland, Austria
WineryWeingut Ziniel
SoilPorous Gravel & Sand
Vintage2020
FermentationWhole Cluster, stem inclusion
Winemaker Profile
Andraes Ziniel

"Sometimes the best ingredient is the one you
didn't add."

The Ziniel family manages 18 hectares at
Austria's lowest and sunniest point. The
multigenerational winemakers focus on hand
harvesting and traditional pressing methods,
letting the natural attributes of their grapes
shine through. An organic winery, Zinial
insists on minimal intervention to avoid
disturbing the natural flora and fauna, which
impart unique characteristics on the wine.
For generations, the family has ignored wine
trends and focused purely on the region,
climate, and landscape
Vino di Fognano Bianco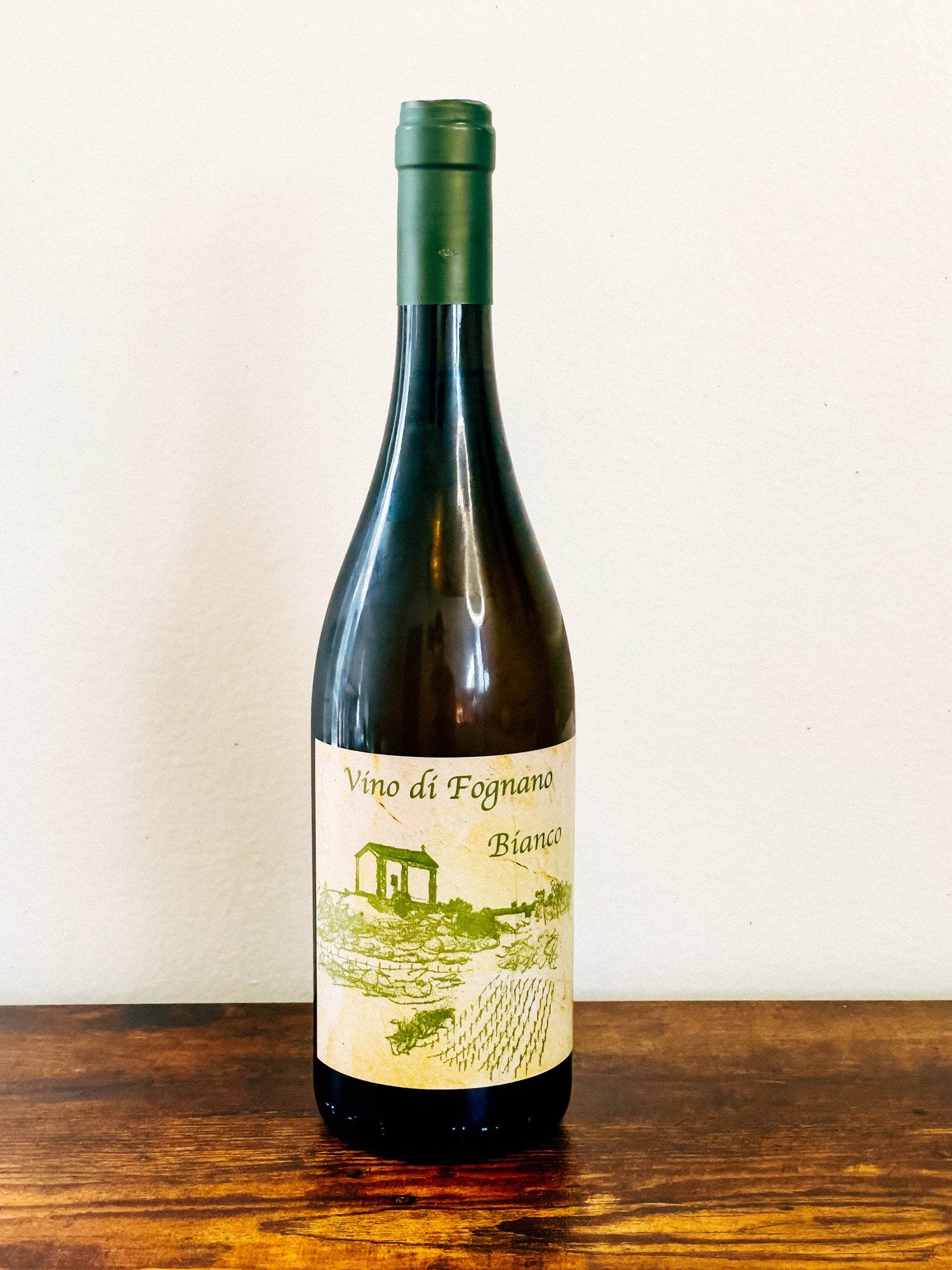 Tasting Notes
Orangina, soft stone fruit, ripe pair, woodsy
swagger, mango chutney.
Good to Know
GrapeMalvasia & Ortrugo
RegionEmilia-Romanga, Italy
WineryArgicola Foppiani
SoilRocky limestone
Vintage2019
FermentationTwo week maceration on skins
Winemaker Profile
Giulio Armani & Paolo Foppiani
This is the second vintage made under the guidance of legendary natural winemaker of La Stoppa, Guilio Armani with friend Paolo Foppiani.  The grapes come from Paolo's recently purchased land, located in the small town Bobbio over looking the Trebbia in Emilia. The plot was once owned by a monastery which they plan on converting into winery/cellar, the wine is made at La Stoppa.
Le P'tit Barriot Blanc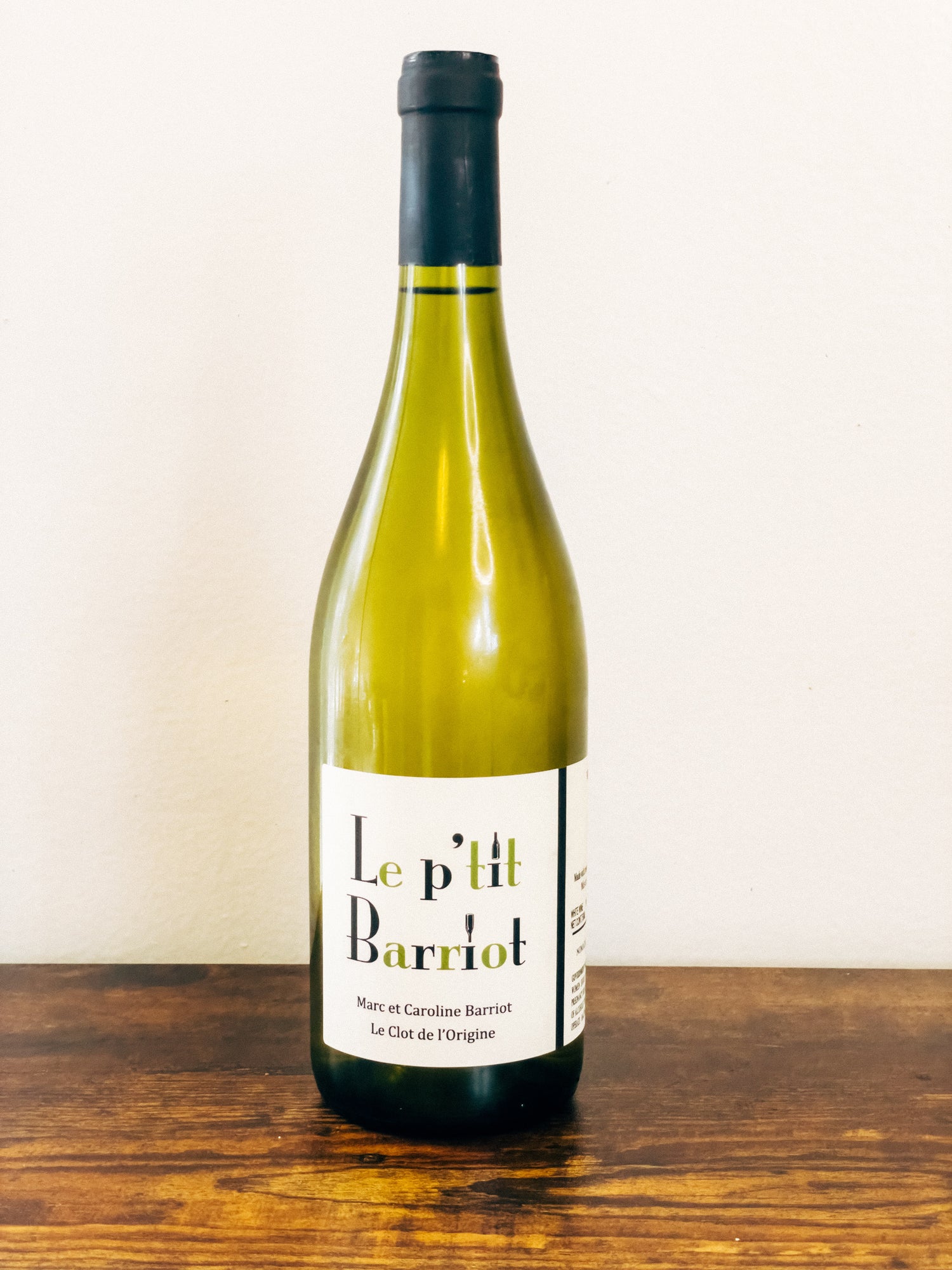 Tasting Notes
Dirty martini, orange rind, fresh minerality, overripe  pear, yellow apple, orange rind.
Good to Know
GrapeSyrah
RegionLanguedoc-Roussillon, France
WineryMarc Barriot
SoilShale, clay, & limestone
Vintage2019
FermentationCement aged
Winemaker Profile
Marc Barriot
Marc Barriot started making wine later in life, traveling to Australia, the US, and France to learn to make Syrah. Then, after several years of apprenticeship in Bandol, he found a plot of land in Maury and began making Clot de L'Origine, his beloved inky red Syrah. Marc now has 17 vineyards, all farmed organically from the beginning. A few years ago, he started making this blanc de noir, white wine from red grapes. These grapes are pressed directly and spend as little time on the skins as possible, resulting in this beautiful wine.
Dazed in Bordeaux
Tasting Notes
Tart cherries, apple orchard, cola, ash, shrub.
Good to Know
GrapeCabernet Sauvignon, Sauvignon Blanc, Semillon
RegionSanta Ynez Valley, California
WineryGood Boy Wine
SoilAncient marine soil
Vintage2020
FermentationWhite and red wines are fermented separately, then combined at bottling
Winemaker Profile
Eric Bach and David Bourkeh 
Angelino-based Eric and David began Good Boy Wine, hoping to combine French technique with organic and biodynamic Californian grapes. True to their mission, they only work with vineyards that embrace the ethical treatment of farmworkers and practice sustainable farming methods. They are committed to fostering diversity, inclusivity, and change within the wine industry.
Priscus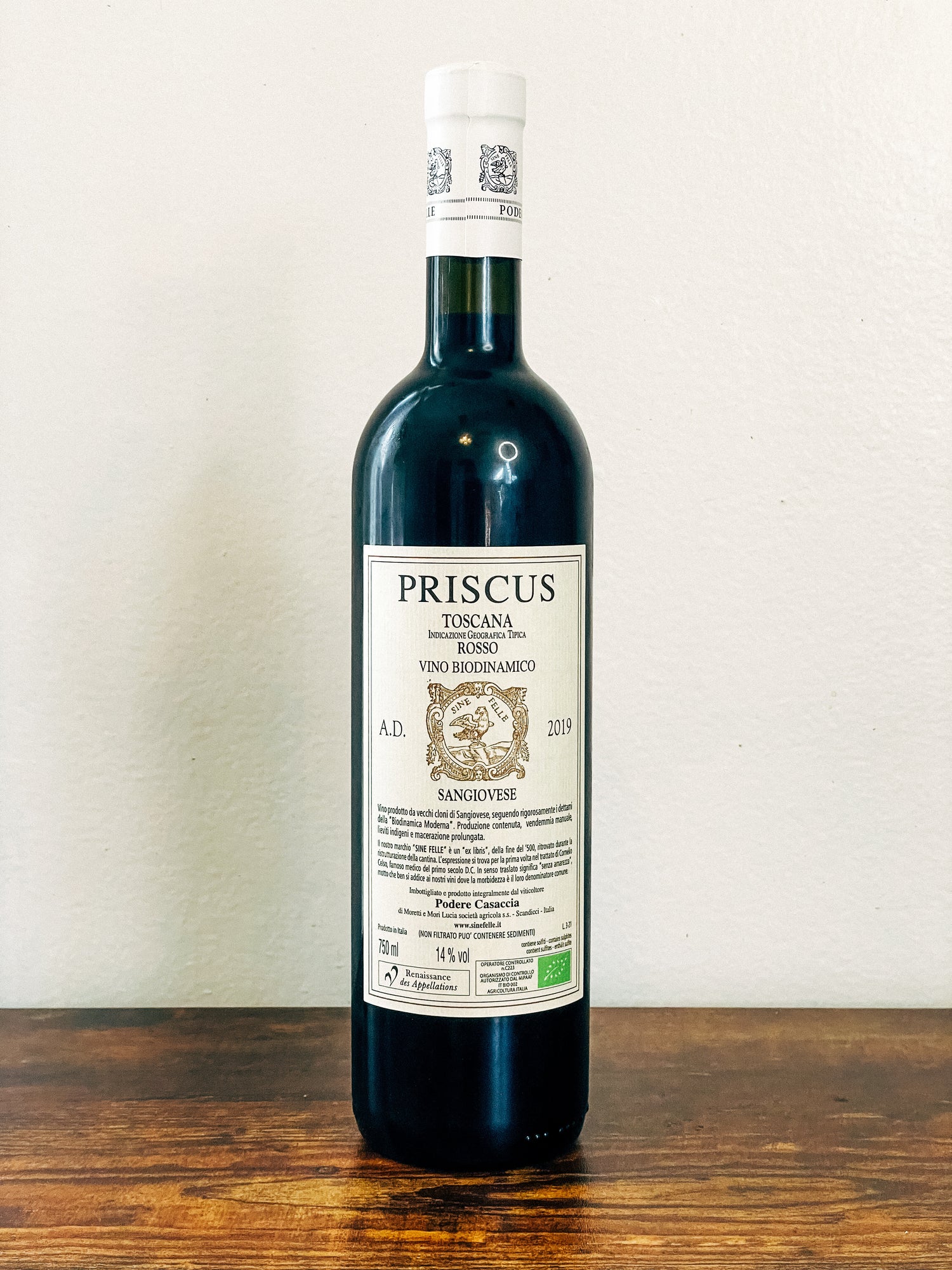 Tasting Notes
Dark chocolate dreams, s'mores, strawberry, candied black cherry, vanilla, balsamic and rich earth.
Good to Know
GrapeSangiovese
RegionToscana, Italy
WineryPodere Casaccia
SoilClay, loam & sand
Vintage2019
FermentationSteel fermentation, with a short elevage in old oak
Winemaker Profile
Roberto Moretti
Roberto bought his small vineyard property in 1999 - 12 acres of land located in the hills of Scandicci, planted with olive trees and grapevines. Given its setting amongst the hills, the land is exposed to near-perfect light allowing for extraordinary ripening. Roberto is passionate about biodynamic agriculture, producing entirely organic wine and olive oil.